Boutique - Shop
Pour toutes commandes, n'oubliez pas de noter la référence de ou des articles, vos coordonnées et les quantités à l'adresse suivante: petaf.armt@gmail.com .Un mail de confirmation vous parviendras ensuite, vous indiquant les modalités de paiement ainsi que la disponibilité. Merci.
Envoi par Mondial Relay, frais de 4€. Avec votre commande veuillez vérifier et indiquer le Points Relais le plus proche ou vous voulez être livré.
Sent by Mondial Relay, shipping included, please check with your orderand the Points Relais insiquer nearest where you want to be delivered.
Envoi par Colissimo, frais de port de 6€ en sus.
Sent by Colissimo, shipping not included.
For all orders, be sure to note the reference or articles, contact details and quantities at the following address: petaf.armt@gmail.com . A mail confirmation will then tell you how payment terms and availability. Thank you.
Réf AA002 INSIGNE : 4€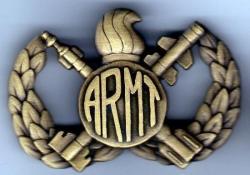 Insigne en alliage de métal, couleur "bronze ancien". Une attache épingle à l'arrière.
Héraldique: une couronne de laurier avec une grenade à quatre flammes posée en abyme chargé des lettres ARMT. Brochant un missile et une bombe laser, le tout couleur or vieux.
Badge metal alloy, color "antique broze". A pin fastening on the back.
Heraldry: a laurel wreath with a grenade to put four flames in charge of letters ARMT abyss. Surmounting a missile and a laser bomb, all in old gold.
Réf AA005 LANYARD 2€

Tour de cou de 24cm, couleur noir avec attache portable et séparateur en plastique.
Lanyard 24cm, black tie with portable plastic separator.
Réf AA007 AASM 100€
Sculpture en bois d'un AASM sur socle noir avec insigne "Pétaf". Longueur de 25cm. Tout les éléments sont en bois et peint à la main.
Wooden sculpture of AASM on base with badge "Pétaf". Lenght 25cm. All itemsare hand-painted wood.
Réf AB011 ECUSSON OPERATION ARTEMIS : 1€

Bande patronyme réalisé lors de ce même détachement en Ouganda. Artémis étant le nom de l'opération pour l'Europe.
Surname band performed at the same detachement in Uganda. Artemis is the name of the operation for Europe.
Réf AB013 BANDE PATRO VERTE : vierge 2€
Réf AB014 BANDE PATRO OR : vierge 5€ / brodé 9€
Les bandes patro sont de retour, toujours de format 12,5 X 3,5cm. Deux versions maintenant existes :
Version verte qui reprend la bande patro traditionnel
Version or avec le "Devil Pou" et bordure or
(Pour info les versions non rien à voir avec les Pokemons !)
Aucune des versions ne possèdent de velcro pour permettre le brodage. Les bandes sont vendu soit vierge au prix de 5€, soit brodé au prix de 9€.
Réf AC001 T-SHIRT "Devil Pou" : 10€
T-shirt "Devil Pou" noir avec un logo "pétaf" sur la face avant gauche. Face dos avec notre star sur fond de logo "force obscure"!
Black t-shirt "Devil Pou" on the front left. Faced with our backs agains the background star logo "force obscure"
Disponibilité : XL, M & L
Réf AC003 Polo F1 : 20€
Polo F1 couleur gris, logos devant et sur la manche brodé. Face dos imprimé. Dessin de dos réalisé par Air- Pictures.fr
Polo F1 gray front and logos embroidered on the sleeve. Face back print. Back drawing by Air- Pictures.fr
Disponibilité : S, L, M, XL & XXL
Réf AC004 (france) / AC005 (anglais) T-shirt DANGER : 8€
T-shirt couleur sable , logo pétaf sur la face avant gauche. Face dos "DANGER"
Sand colored T-shirt, logo on the front pétaf left. Front back "DANGER"
Disponibilité :
AC004 : S, M, L, XL, XXL
AC005 : S, M, L, XL, XXL